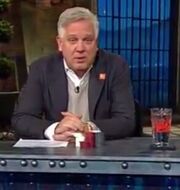 Glenn Lee Beck (born February 10, 1964) is an American television personality and radio host, conservative political commentator, author, television network producer,[1] filmmaker, and entrepreneur. He hosts the Glenn Beck Radio Program, a popular nationally syndicated talk-radio show that airs throughout the United States on Premiere Radio Networks and the Glenn Beck television program, which ran from January 2006 to October 2008 on HLN, from January 2009 to June 2011 on the Fox News Channel and currently airs on TheBlaze. Beck has authored six New York Times–bestselling books.[2] Beck is the founder and CEO of Mercury Radio Arts, a multimedia production company through which he produces content for radio, television, publishing, the stage, and the Internet. It was announced on April 6, 2011, that Beck would "transition off of his daily program" on Fox News later in the year but would team with Fox to "produce a slate of projects for Fox News Channel and Fox News' digital properties".[3]Beck's last daily show on the network was June 30, 2011.[4] In 2012, The Hollywood Reporter named Beck on its Digital Power Fifty list.[5][6]
Anonymous
Edit
Video meesage to Beck
Edit
Statements
Edit
References
Edit
Ad blocker interference detected!
Wikia is a free-to-use site that makes money from advertising. We have a modified experience for viewers using ad blockers

Wikia is not accessible if you've made further modifications. Remove the custom ad blocker rule(s) and the page will load as expected.