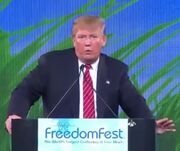 Donald John Trump (born June 14, 1946) is an American business magnate, television personality and candidate for President of the United States in the 2016 presidential election. He is the chairman and president of The Trump Organization, and the founder of Trump Entertainment Resorts. Trump's career, branding efforts, lifestyle and outspoken manner helped make him a celebrity, a status amplified by the success of his NBC reality show, The Apprentice.[1]
In 2016 Anonymous hacked Trump's voicemails.[2]
Anonymous
Edit
Anonymous sent Trump a message in Spanish on June 17 2015[3]. Then Another Anonymous channel sent a messages to Trump talking about his insults to Senator John S. McCain then in turn praising McCain[4]. Then they published a video in December of 2015 depicting a bald eagle attacking Trump.[5]. On December 11 2015 Anonymous sent a message to Trump over his comments on wanting to ban Muslims. A video about can be found below. Later on December 15 2015 Anonymous announced that December 18 2015 would be a day that they would troll Trump[6]
In March 2016 Anonymous declared total war against Trump. They hope to discover and reveal personal information about Trump. Anonymous declared:
We have been watching you for a long time and what we've seen is deeply disturbing. You don't stand for anything but your personal greed and power. This is a call to arms. Shut down his websites, research and expose what he doesn't want the public to know. We need you to dismantle his campaign and sabotage his brand.[7]
Video message to Trump
Edit
References
Edit